Adiabatic expansion inside heat turbine
The working gas inside turbine expands from pressure pi on pressure pe. If the turbine is isolated system then entropy of working gas must be constant or increasing. This increase of entropy is caused by loss heat (local temperature differences, which arise during turbulence and a friction of the working gas on machine parts, flow of the working gas through leakages inside the stage and mixing etc.). For illustrate the heat flows inside the heat machine are used i-s diagram and T-s diagram: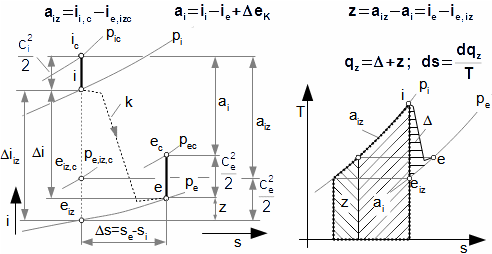 9.
307
The specific internal work of the heat turbine at adiabatic expansion in i-s and T-s diagram.
T
[K] absolute temperature;
aiz
[J·kg
-1
] specific internal work at
isentropic
expansion (adiabatic expansion without losses);
v
[m
3
·kg
-1
] specific volume;
Δiiz
[J·kg
-1
] specific enthalpy difference at isentropic expansion;
Δi
[J·kg
-1
] used enthalpy difference;
qz
[J·kg
-1
] specific internal loss heat inside turbine;
z
[J·kg
-1
] specific internal losses inside turbine;
Δ
[J·kg
-1
] specific
re-usable heat
(part of
qz
, which was transformed on work in other part of turbine);
k
approximate profile of enthalpy change;
s
[J·kg
-1
·K
-1
] specific entropy. Derived for case
q=0
. How to design of T-s is described in the
Appendix 307
.
For the difference specific enthalpy ii-ie can be use the equation also:
10.
450
The difference of specific enthalpy between two states.
κ
[-] Poisson index (heat capacity ratio);
n
polytropic index (for case flow without losses
n=κ
);
r
[J·kg
-1
·K
-1
] individual gas constant;
cp
[J·kg
-1
·K
-1
] specific
heat capacity
of working gas at constant pressure. Derived for
cp=const.
. The derivation of this equation is shown in the
Appendix 450
.
From previous equations is evident, maximum ai at adiabatic expansion is reached for case isentropic process, therefore the isentropic expansion is used as comparative for assessment of internal efficiency of the heat turbine:
13.