● 15. Shapes of parts and materials of turbomachines ●
The alloys steels contain usually the same element as the carbon steels (the trace admixtures are changed with their type of processing) but they contain other alloying ingredients which change mechanical and chemical properties of steels (ultimate strength, environment resistance, weldability, machinability, castability etc.). The most use alloying ingredients are Mn, Si, Cr, Ni, Mo, V, W, Co, Ti, Al. What have individual elements influence on target properties of steel is shown in [12, p. 166]. Majority types of alloys steels can be treatments by heat, chemical and mechanical ways. Individual alloys ingredients can also properties of steel to deteriorate: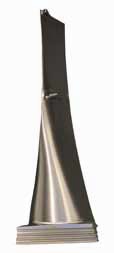 9.
1014
Examples of use of alloys steels.
left
An impeller of radial pump from stainless steels. The impeller is made from three parts - precision casting of blades (
1.4581-Cr-Ni-Mo-Nb
, cast stainless steel), for and back disks (
1.4404-Cr-Ni-Mo
). All three parts are welded. Surface of the impeller is cleaned by electro-chemical ways – this method does not produce cracks on the surface as a cutting (the cracks on the surface of steel supports corrosion). Impeller diameter is
200 mm
. This type of impeller is used in pump for pharmacy and food industry at working fluid temperature up
120 °C
. The impeller is from pump type YMD made by Iwaki (Japan), [14].
right
A blade of a steam turbine from titanium steel. Length of blade is
1375 mm
, for last stages of steam turbine. For case very length blades is tension at a
blade root
very high from centrifugal forces, therefore the titanium is mixed to steel for lower density and hence the tension. A disadvantage this alloys is at lower abrasion resistance, therefore surface these blades is necessary treatment by laser welding from harder metals (the blade on the figure without laser overlay). Manufacturer of the blade is Doosan Škoda Power (Czech republic) [13].
Special class of steel alloys are alloys for heat machines. Inside of the heat machines can be extreme temperature (for case combustion turbine can be maximum temperature of exhaust gas up 1300 °C, for cases cryogenic compressors can be temperature of working gas near absolute zero). High load of blades by centrifugal forces at these extreme temperatures have very high requirements on material of the blades, their surface treatment and their construction. At high temperature is decreasing corrosion resistance, strength and Young's modulus of elasticity of the alloys steels [18, Appendix 27]: